1420 Meyer Hall Classroom/Lab

| | | | | |
| --- | --- | --- | --- | --- |
| | | | | |
| Built-in PC: Present    | Laptop Ports: Present   | VCR Player: Present   | Doc Cam: Present    | Webcam: Present   |
Instructions - 1420 Meyer - AV System.pdf
Instructions - 1420 Meyer - Doc Cam.pdf
Instructions - 1420 Meyer - Webcam.pdf
AV System
The classroom is fitted with an Extron Pole Vault system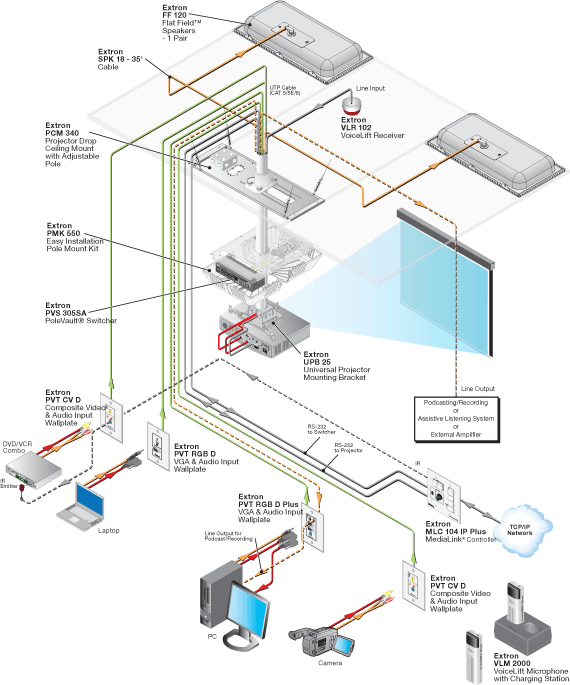 PoleVault_Brochure.pdf
PoleVault_Installation_Guide.pdf
PoleVault Installation Video
VoiceLift Installation Video
UPB 25 Installation Video - Universal Projector Mounting Bracket
Laptop Connections
The podium, in the front of theroom, is fitted with a cable cubby (black box on top towards the back right), where all the cables for a laptop connection are stored. It contains one power outlet, VGA cable, audio cable, and Ethernet cable.
Cable Cubby 200 - Installation Guide.pdf
Cable Cubby 200 - template actual size.pdf
Built-in Desktop Computer
Optiplex 7010monitor_dell p2012h.jpg
The built-in desktop computer is a Dell OptiPlex 745 Small Form Factor Computer with Intel® Core™ 2 Duo, 2.40 GHz, 8 GB RAM, 210 GB of disk space, 32-bit Windows 8.1 operating system.
Installed Software: Microsoft Office 2010, Webcam software (YawCam), Java, AdobeConnect, Mozilla Firefox, MS Explorer, Google Chrome.
DVD/VCR Player
The podium is fitted with a DVD/VCR player. It is installed on the bottom shelf, behind the front door. The player is a Magnavox DV225MG9 DVD/VCR Combo Player. The remote control is anchored to the player and can be used to operate the player. Please shut off the player after use.
DVD_Player_DV225MG9_Manual.pdf
Document Camera
A document camera is a digital overhead projector with a video camera. It projects whatever you have placed on the white space under the camera in real time (it will project both transparencies and plain pieces of paper). It is mounted on a cart next to the podium. The document camera is a WolfVision VZ-8Light4 Desktop Visualizer.
doccamera_howtouse_wolfvision.pdf
doccamera_brochure_wolfvision.pdf
doccamera_Quick_Setup_Guide_8light4_ed.pdf
doccamera_User Manual_VZ_8light4.pdf
Download WolfVision Connectivity Software
The document camera is hard wired to the built-in computer with a USB cable. Run the Connectivity software to access the document camera from the computer. In this mode, your documents will appears in the Connectivity window on your desktop and can be recorded using the Adobe Connect software.
Webcam System
This room is equipped with three Logitech C920 webcams. The webcams support 1080p signals in native resolution format, which means they are a true 1920 pixels in width and 1080 pixels in height. The webcam can be use to record or display a laboratory operation. The system is fully described in the following document:
Recording Laboratory Operations
To record video from any of these webcams follow the steps in the following document:
How to use a Webcam with Windows Live Movie Maker 2011.pdf
Displaying Laboratory Operations
The webcam system can be used to display laboratory operations on the large projector screens. To display the webcam on the computer, we us a free program called Yawcam (Yet Another Webcam) from http://www.yawcam.com. to display laboratory operations follow the steps in the following document:
Instructions - 1420 Meyer - Webcam.pdf
Projector
The classroom is fitted with three ceiling mounted front projector: Mitsubishi WD720U DLP 3D WXGA Projector.
projector_manual_mitsubishi wd720U.pdf
Screen
The classroom is fitted with three screens: Da-Lite 34463 Cosmopolitan Electrol High Power Surface:113 Inch Diagonal 60" x 96" (H x W), 16:10 Format. Case width 9':00", Screen width 8':00"
screen_manual_da-lite_34463.pdf
screen_installation_da-lite_34463.pdf
Network Access
If your laptop is configured for DHCP, then you should be able to connect to the campus network. Note that you can access the campus network and not the Animal Science domain. There is no active telephone line in the classroom.
---
Service Information
LCD Projector Maintenance:
Once a year have the projector fan cleaned out. Lamp life is 3,000 hours.
Description: Mitsubishi VLT-XD700LP Replacement Lamp
Part No: VLTXD700LP
Vendor: http://www.purelandsupply.com   
Model#:VLT-XD700LP
LampID:VLT-XD700LP
Price: $146.50 (as of 3 July 2014)
Maintenance Schedule
March15, 2014: The new Mitsubishi projectors were installed.
Contact
Abbas Ahmadi, 752-5886, abahmadi@ucdavis.edu