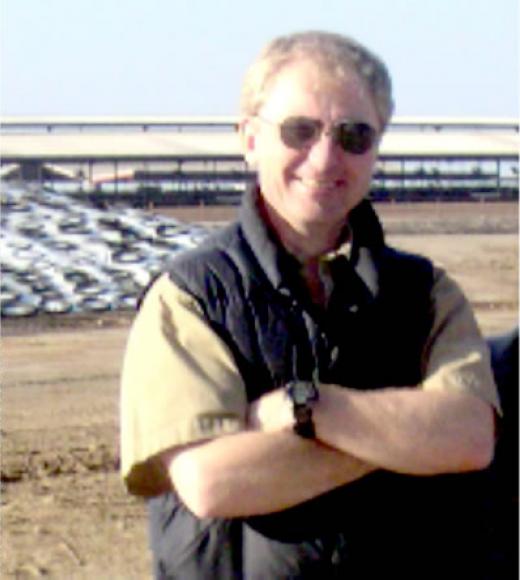 Unit

Cooperative Extension Specialist: Dairy Nutrition and Management, Department of Animal Science
Bio
Education
B.Sc, University of Manitoba (Winnipeg, Canada) 1970-1974.
M.Sc., University of Guelph (Guelph, Canada) 1974-1976.
Ph.D., Cornell University (Ithaca, NY) 1979-1983.
More information about Dr. Robinson's background
Extension Interests
Laboratory methods to predict energy values of feeds.
Silage quality - factors influencing production of high quality silages.
On-farm animal management systems.
On-farm implementation of practical strategies to reduce the environmental impact of dairy farming systems.
Evaluation of methods to quantify on-farm animal performance changes.
Use of electronic communication to increase producer/scientist interaction.
On-farm use of animal metabolic models to systemize known biological concepts.
Research Interests
Protein and amino acid nutrition of dairy cows.
Evaluation of methods to assess forage quality.
Management strategies to reduce the environmental impact of dairy cows.
Animal metabolic models as tools to understand animal biology.
Ongoing Projects
October 2016 Projects
Dr. Robin's Videos and Excel spreadsheets resources
People
Graduate Program
I am looking for students interested in researching challenges in dairy nutritional management with immediate practical application, that concurrently increase understanding of the biology of the system under study, in order to increase predictability of responses of dairy cows to nutritional management systems.
Current Graduate Students
Tamar Cohen-Davidyan
Hanna Gauthier
Yuki Okatsu 
Noe Gomez
Jill Havlin
Grace Cun
Stacy Tsang
Matt Singer
Jesse Warntjes
Sergio Burgos
Shannon Juarez
Visiting Fellows
Nadia Swanepoel
Henco Leicester
Rainer Rauch
Marta Santos
Filipa Sacadura
Leonel Avendano
Pablo Chilibroste
Vasileios Bampidis
Girma Getachew
Articles
A full listing of articles by Dr. Robinson
Calendar of Upcoming Travel
May 2-3, 2018
California Animal Nutrition Conference
Fresno (CA)
June 24-27, 2018
ADSA Annual Meetings
Knoxville (TN)