Annie J. King
Annie J. King, Ph.D.
Professor

Department of Animal Science
One Shields Avenue
University of California
Davis, CA 95616 USA

Phone: +1 530-752-3530
FAX: +1 530-752-0175
Email: ajking@ucdavis.edu
---
Education
B.S. , Food Science, North Carolina A&T University, Greensboro, North Carolina, May 1976.
M.S. , Food Science, North Carolina State University, Raleigh, North Carolina, May 1979.
Ph.D. , Food Science, North Carolina State University Raleigh, North Carolina, August 1983.
Research Interest
Retardation of lipid oxidation in poultry muscle, eggs and their products is the primary focus of my research. A series of antioxidants have been used, including polyphosphates and tocopherols, especially vitamine E. Presently, investigations center on the use of hydroxytyrosol, a by-product from olive oil processing, and α-tocopherol from tomato pomace, an agricultural by-product consisting of peels, cores, seeds, stems and green tomatoes from tomato processing.

A secondary focus for research deals with the use of antioxidants to retard oxidation of cholesterol during processing of poultry and during the actual assay for cholesterol and its many oxidized derivatives. Thus, work continues to improve methodologies for determination of cholesterol and cholesterol oxidation products during analyses.

In tangential research, tomato pomace is under investigation for it use in diets of laying hens. Additionally, research is underway to assess its usefulness in non feed removal molt diets for laying hens.
Biography
Annie J. King is a Professor in the Department of Animal Science at UC Davis. Her research, teaching and outreach concentrate on the nutritional quality of poultry meat, eggs and their products and use of agricultural by-products, containing antioxidants, in poultry feed.
She served as the Associate Dean of Undergraduate Academic Programs in the College of Agricultural and Environmental Sciences for nearly 11 years (1994 -2005) and returned to Animal Science to continue her research program and as an instructor of avian and animal sciences courses in 2005. Presently, she serves as a faculty advisor for undergraduate students in the Department and as faculty advisor/instructor for the Contemporary Leadership Minor, part of the Science and Society Program and affiliated with the Center for Leadership Learning at UC Davis.
Annie was a member of Class 30 of the California Agricultural Leadership Program and presently serves as the core faculty for the Program at Davis. As core faculty, she works with colleagues at three other California universities and the Director of Education at the California Agricultural Leadership Foundation to organize several leadership seminars per year for mid-career agriculturalists and others in closely related occupations.
She received her B.S. degree in Foods and Nutrition from N.C. Agricultural and Technical State University in Greensboro, North Carolina. Her M.S. and Ph.D. degrees in Food Science (minor in nutrition) are from NC State University, Raleigh, North Carolina.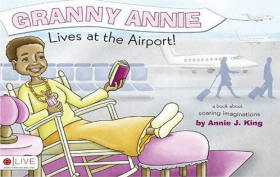 As a grandmother, she is the author of a series of children's books, the first of which (Granny Annie Lives at the Airport) was published in 2009.
Graduate Groups
Agricultural and Environmental Chemistry
Avian Sciences
Food Sciences