UC Davis is the #1 agricultural university in the world and the #1 veterinary school. UC is considered a top value for education and the Department of Animal Science is ranked by the Gourman report as the #1 Animal Science Department in the Nation. UC Davis lies in the City of Davis located in California's fertile central valley, 12 miles west of Sacramento, California's capitol and 75 miles east of the San Francisco Bay Area. Sonoma and Napa Valley, known for wine, are an hour's drive to the northwest. Lake Tahoe and the Sierra Nevada are two hours to the east while coastal communities of Mendocino and Santa Cruz are about 150 miles to the north or south, respectively.
Davis is known for the quality of its college town life with a welcoming environment, amenities and innovative housing. The weather is usually mild, with hot, dry summers and cool, wet winters. There are community pools, tennis courts, playing fields, parks and jogging paths throughout the city. Davis is sometimes referred to as "The Bicycle Capital of the U.S." because many people ride their bicycles. Davis is very appealing and students, faculty, and staff find it a great place to live, study and work.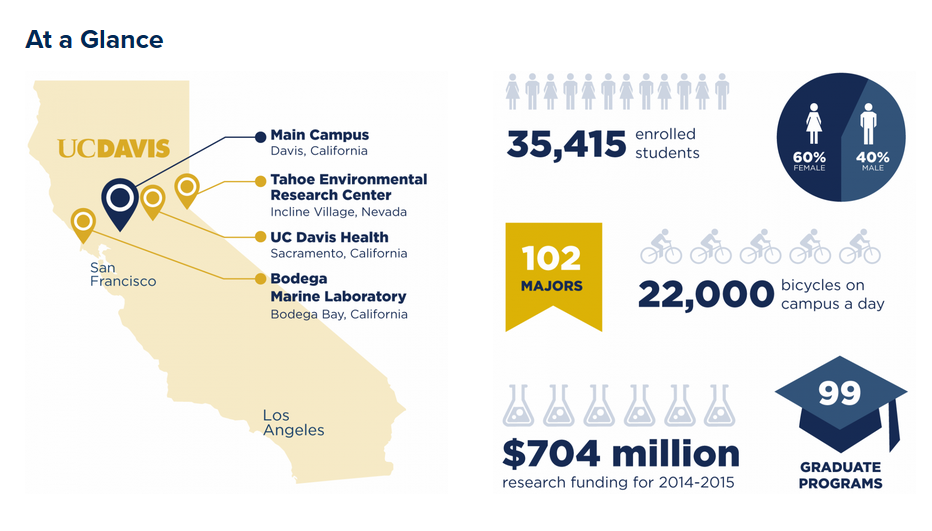 Our university excels in education, global research and helping students succeed. Check out how we are known for being affordable and a good investment.
Extraordinary education
99 graduate programs, with more than half interdisciplinary
38 percent of undergraduates conduct research, typically working directly with faculty, postdoctoral researchers and graduate students
20:1 undergraduate student-to-faculty ratio
Our University Honors Program offers the experience of a selective liberal arts college with the resources and opportunities of a world-class research university
Our world-renowned faculty care about their students' success and are focused on educating them for a competitive world
You'll have access to 10 million items in the university's library, including books, journals, music and maps, in print and digital formats
Global focus
We welcome international students, offering many services to help students achieve, including language programs for undergraduate and graduate students, and classes that connect you to UC Davis' culture.
1,300 UC Davis students study abroad each year attending 50-plus programs led by our own instructors in 30-plus countries, and many other programs through the University of California Education Abroad Program and independent providers.
Friends, fun and community
Make your choice from more than 800 student clubs including academic groups, 70 fraternities and sororities, student government, and ethnic and cultural organizations.
Into athletics? We've got 23  intercollegiate athletics teams (14 for women, 9 for men); 27 intramural teams and 39 sport club teams.
UC Davis students, faculty and staff volunteer more than 600,000 hours of community service per year.
We own sustainable
10th among 629 schools in the  Princeton Review's "Green Guide" 2017 for sustainability policies, practices and programs
29 percent of food bought for the dining commons is sustainably grown
Our biodigester, invented here, has a daily capacity to turn 50 tons of waste into energy for the campus
The Tercero Phase 3 student housing project received the highest possible rating of platinum from the U.S. Green Building Council
Our West Village community is designed to generate all the energy the community needs, mostly through solar
We help you afford college
In 2016-2017, 56 percent of our California resident undergraduates received enough gift aid to fully cover their base tuition and fees
51 percent of our students awarded baccalaureate degrees graduated debt free in 2016-2017
 About 75 percent of aid to undergraduates comes in the form of grants and scholarships
It's a great return on your investment
Alumni excel: We're 31st among the top 50 U.S. universities and colleges for amount of money made over 20 years after earning a degree.
Recent UC Davis graduates earn a median annual salary of $56,300, and experienced alumni are earning $94,600 in mid-career earnings, ranking us 21st of 25 national universities for the highest-earning graduates. 
We're a public college "best value": In the U.S., UC Davis is 39th for in-state tuition and 64th for those paying out-of-state tuition.
Find more statistics about UC Davis Budget & Institutional Analysis' campus data site.