NEWS & EVENTS
Russ Hovey was awarded the NACADA Region 9 award for Excellence in Advising in the Faculty Advising category. As many of you will remember, Russ was awarded the 2021 Harry and Eleanor Walker Outstanding Faculty Advisor award in CAES last Spring. Congratulations Russ!
Alison Van Eenennaam was recently awarded the 2022 Academic Federation Excellence in Graduate and Professional Teaching or Mentoring Award. Congratulations Alison!
A big Congratulations to Ermias Kebreab for his work being featured as one of the top 10 research stories of 2021 for the University of California! The UC System selected the work that Ermias and colleagues did looking into reductions in GHG emissions by feeding cattle seaweed as the feature research from UC Davis. Here is the original article on the work by UC Davis: https://www.ucdavis.edu/climate/news/feeding-cattle-seaweed-reduces-their-greenhouse-gas-emissions-82-percent
Amy McLean was interviewed by the Boston Globe about donkey reproduction and the endangered breed of donkey that the article focused on. Link: https://www.bostonglobe.com/2021/10/01/metro/very-special-donkey-coaxed-life-vermont-farm-stirs-hope-preserving-rare-breed-that-dates-middle-ages/?event=event25&fbclid=IwAR3COn_XQyn1FnvFCYgqKGV8t75CepgVcLTCeD-Eb7xUnvmejLfKUooPRgA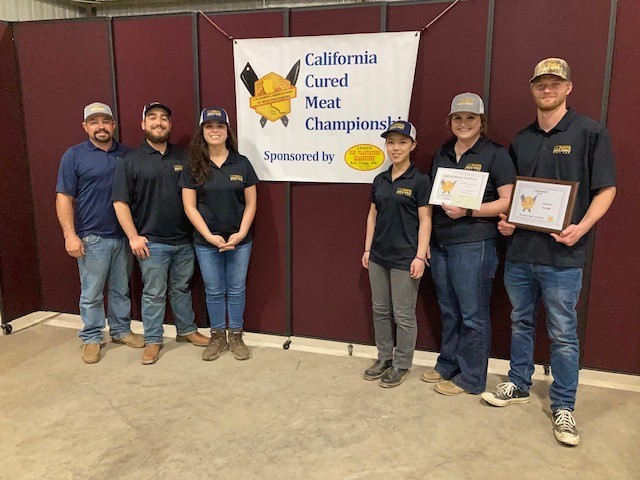 The Meat Lab had a good weekend February 26th and 27th at the California Association of Meat Processors annual convention and cured meat show. Duncan Creed (ANS undergraduate student) won 3rd place in the collegiate class and UC Davis students won 3rd, 4th & 5th place respectively. Grazia Machado won the CAMP scholarship and Caleb Sehnert was re-elected for a 4th term as CAMP Vice President.
CONFERENCES AND OUTREACH
Richard Blatchford provided two trainings on animal based measures for assessing feeder space for laying hens to the Egg Farmers of Canada. He also spoke on "Enrichment for Food Animals" during a PACCO certification training and presented "Tools for Reducing Floor Eggs" at the California Egg Quality Assurance yearly meeting. Lastly, Richard attended the 6th Annual Perdue Farms Animal Care Summit.
Last October, Meredith Harrison (PhD student with Jim Oltjen) received second place for her presentation of  "Effect of a reduction in linear bunk space on feedlot steer performance and body composition" at the American Society of Animal Science Western Section meeting in Fort Collins
AWARDS AND GRANTS
Grace Auringer (IGG PhD student, Genetic Variation Lab) has been awarded a 2022 California Sea Grant Graduate Research Fellowship! Grace will be studying patterns of genetic diversity and gene flow in multiple lamprey species in the state of California. Lamprey in California are understudied so her work will help us better understand basic biology as well as inform management efforts.
Mark Cooper, along with co-PIs Vikram Koundinya (Human Ecology / ANR), Tapan Pathak (UC Merced / ANR), Steven Ostoja (Muir Institute / USDA), Leslie Roche (Plant Sciences / ANR), and Daniele Zaccaria (Land, Air, and Water Resources / ANR) were awarded $1.5 million from USDA NIFA AFRI for their project "Multifaceted pathways to climate-smart agriculture through integrated participatory program development and delivery."  The project will conduct stakeholders needs assessments; trainings for technical service providers; regional workshops for farmers and ranchers; and student education with extension service-learning opportunities on pathways to climate-smart agriculture in California.
Mark Cooper and Michael Rios (Vice Provost of Public Scholarship / Human Ecology) were awarded a HuMetricsHSS Community Mellon Fellowship (Humane Metrics in the Humanities and Social Sciences) on "Structures, Norms, and Metrics for Values-based Scholarship and Practice in the University."  During the 2022-2023 fellowship they will conduct a study of how values-driven scholarship is translated – and can be better translated – into metrics that shape faculty practices.
PUBLICATIONS FROM ANIMAL SCIENCE
 Zhangyuan Pan, Ying Wang, Colin Kern, Michelle Halstead, Ganrea Chanthavixa, Pablo Ross, Huaijun Zhou publish paper titled "Pig genome functional annotation enhances the biological interpretation of complex traits and human disease" in Nature Communications https://www.nature.com/articles/s41467-021-26153-7
Amy McLean recently published work with international and national collaborators: Maria Pinto, Francisco Javier Navas González , Camie Heleski, Amy McLean. Judgement Bias in Miniature Donkeys: Conditioning Factors and Personality Links in Animals https://doi.org/10.3390/ani11092737
Marla Glass (formerly McPherson, former PhD student in IGG), Justin Smith (current SRA with Anna Denicol), Hans Cheng and Mary Delany recently published work from their group.
Glass, M.C., Smith, J.M., Cheng, H.H., M.E. Delany. 2021. Marek's disease virus telomeric integration profiles of neoplastic host tissues reveal unbiased chromosomal selection and loss of cellular diversity during tumorigenesis. Genes 12(10):1630. https://www.mdpi.com/2073-4425/12/10/1630
Harness, E.M., Mohamad-Fauzi, N. and Murray, J.D. (2002). MSC therapy in livestock models. Translational Animal Science. https://doi.org/10.1093/tas/txac012
Hennig, S.L., Owen, J.R., Lin, J.C., McNabb, B.R.,  Van Eenennaam, A.L. and Murray, J.D. (2022). A deletion at the polled PC locus alone is not sufficient to cause a polled phenotype in cattle.  Science Reports 12, 2067. https://doi.org/10.1038/s41598-022-06118-6