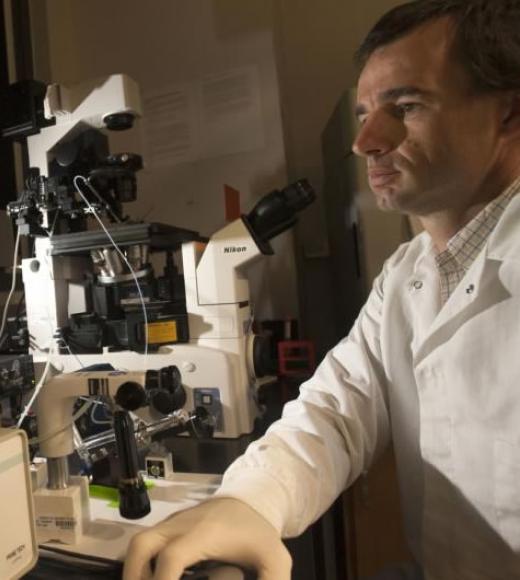 Bio
Education
D.V.M., Veterinary Medicine, La Plata National University (Argentina), 1999
M.S., Animal Science, Mar del Plata National University (Argentina), 2002
Ph.D., Animal Science, Michigan State University, 2007
Research Interests
Reproductive biology with emphasis on gamete and embryo development. Epigenetic remodeling during embryonic development, somatic cell nuclear transfer, embryonic stem cells, and induced pluripotency. Development and application of assisted reproductive techniques in livestock species.

Additional information about Ross's Research
Graduate Groups
Courses Taught
Animal Growth and Development (ANS 123)

Animal Cell Culture (ANS 133)

Animal Cell Culture Laboratory (MCP 200L)
People
Research Staff
Current Graduate Students and Postdocs
Ahmed Mahdi, Ph.D. Program, Animal Biology Graduate Group. Expected Graduation Date: Fall 2020.

Insung Park, Ph.D. Program, Animal Biology Graduate Group. Expected Graduation Date: Spring 2021.

Carly Guiltinan, Ph.D. Program, Animal Biology Graduate Group. Expected Graduation Date: Spring 2023.

Daniel Goszczynski, Postdoc.

Emily Fishman, Postdoc.

Chuan Zhou, Postdoc
Current International Visiting Students, Postdocs and Professors
Miaohan Jin, Ph.D. student,

Northwest A&F University, Yangling, China
Past Graduate Students 

and Postdocs
Margaret Buell, M.S. Animal Biology.

Kursheed Iqbal, Postdoc.

Nhi Chung, M.S. Animal Biology.

Juan Reyes, Ph.D. Integrative Genetics and Genomics.

Yanina Bogliotti, Ph.D. Animal Biology.

Charnice Robinson, M.S. Animal Biology.

Michelle Cruz, M.S. Animal Biology.

Marcela Vilarino, Ph.D. Animal Biology.

Susan Waters, M.S. Integrative Genetics and Genomics.

Luis Ferre, Ph.D. Universidad Nacional del Litoral, Argentina.

Bradford Daigneault, Postdoc.

Delia Soto, Ph.D. Animal Biology.

Erika Paulson, Ph.D. Animal Biology.

Tae Kim, Postdoc.

Michelle Halstead, Ph.D. Integrative Genetics and Genomics
Selected Publications
Bogliotti YS, Chung N, Paulson E, Chitwood J, Haltead M, Kern C, Schultz RM, Ross PJ. Transcript profiling of bovine embryos implicates specific transcription factors in the maternal-to-embryo transition. Biology of Reproduction 2020 Mar 13;102(3):671-679. doi: 10.1093/biolre/ioz209.
Goszczynski DE, Cheng H, Demyda-Peyrás S, Medrano JF, Wu J, Ross PJ. In vitro breeding: application of embryonic stem cells to animal production. Biology of Reproduction 2019 Apr 1;100(4):885-895. doi: 10.1093/biolre/ioy256.
Daigneault BW, Rajput S, Smith GW, Ross PJ. Embryonic POU5F1 is required for expanded bovine blastocyst formation. Sci Rep. 2018 May 17;8(1):7753. doi: 10.1038/s41598-018-25964-x.
Bogliotti YS, Wu J, Vilarino M, Soto DA, Izpisua Belmonte JC, Ross PJ. Efficient derivation of stable primed pluripotent embryonic stem cells from bovine blastocysts. PNAS 2018 Feb 27;115(9):2090-2095.
Vilarino M, Rashid ST, Suchy FP, McNabb BR, van der Meulen T, Fine EJ, Ahsan S, Mursaliyev N, Sebastiano V, Diab SS, Huising MO, Nakauchi H, Ross PJ. CRISPR/Cas9 microinjection in oocytes disables pancreas development in sheep. Sci Rep. 2017 Dec 12;7(1):17472. doi: 10.1038/s41598-017-17805-0.
Reyes JM, Silva E, Chitwood JL, Schoolcraft WB, Krisher RL, Ross PJ. Differing molecular response of young and advanced maternal age human oocytes to in vitro maturation. Hum Reprod. 2017 2017 Nov 1;32(11):2199-2208. doi: 10.1093/humrep/dex284.
Wu J, Platero-Luengo A, Sakurai M, Sugawara A, Gil MA, Yamauchi T, Suzuki K, Bogliotti YS, Cuello C, Morales Valencia M, Okumura D, Luo J, Vilariño M, Parrilla I, Soto DA, Martinez CA, Hishida T, Sánchez-Bautista S, Martinez-Martinez ML, Wang H, Nohalez A, Aizawa E, Martinez-Redondo P, Ocampo A, Reddy P, Roca J, Maga EA, Esteban CR, Berggren WT, Nuñez Delicado E, Lajara J, Guillen I, Guillen P, Campistol JM, Martinez EA, Ross PJ, Izpisua Belmonte JC. Interspecies Chimerism with Mammalian Pluripotent Stem Cells. Cell. 2017 Jan 26;168(3):473-486.e15. doi: 10.1016/j.cell.2016.12.036.
Cannovas S, Cibelli J, Ross PJ. Jumonji domain-containing protein 3 regulates histone 3 lysine 27 methylation during bovine preimplantation development. Proceedings of the National Academy of Sciences of the USA (PNAS) 2012; 109(7):2400-5
Complete List of Published Work: http://www.ncbi.nlm.nih.gov/sites/myncbi/pablo.ross.1/bibliography/42934731/public/?sort=date&direction=descending