Directions
Davis is located in the heart of Northern California on Interstate Highway 80, 13 miles West of Sacramento, and 56 miles North and East of San Francisco. Department of Animal Science is located in the Meyer Hall on the southern edge of campus along La Rue Road at Bioletti Way, between parking lots 46 and 47. The Department's Main Office is located in the second floor of Meyer Hall.
From Sacramento International Airport (estimated travel time 30 minutes):   
Start out going South on Airport Blvd towards RETURN TO TERMINAL by turning right.
Take the I-5 NORTH ramp towards WOODLAND.
Merge onto and follow I-5 NORTH.
Take the MAIN ST exit towards WOODLAND (Follow signs for HWY 113 S).
Turn LEFT onto E MAIN ST.
Turn LEFT to take the HWY 113 SOUTH ramp towards DAVIS.
Merge onto HWY 113 South. Travel about 7 miles.
Exit at Hutchison Drive (east) into the UC Davis campus (go to the left on Hutchison at the off-ramp exit).
Take Hutchison to La Rue (the first light you reach) and turn right onto La Rue.
Take La Rue all the way around until you see Lot 47 on your left.
This visitor parking lot ($9.00/day) at the corner of La Rue and Bioletti is across the street from Meyer Hall.
From San Francisco Airport (estimated travel time 2 hours):
Take Highway 101 North.
Take Interstate 80 East (towards Oakland and Sacramento).
Cross over Carquinez Bridge (toll).
Exit UC Davis. Left turn off freeway on New Davis Road.
Go Past South Gate Information/Visitor Kiosk.
Turn left onto California Ave.
Go over the creek and turn left onto La Rue.
The first parking lot on right is Lot 46, this is for faculty & staff parking. Go past this parking lot, past Meyer Hall, past Bioletti Way to Parking Lot 47 for visitor parking ($9.00/day).
From Hwy 113: Exit at Hutchison (head East towards campus). Turn Right (South) at the second stop light which is La Rue. Enter Parking lot 47.
Maps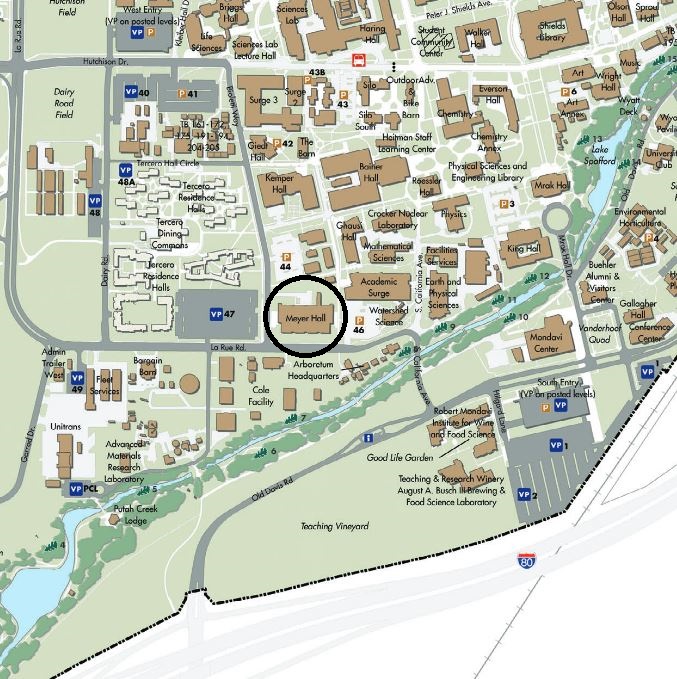 Parking
There are two parking lots near the Meyer Hall: Parking Lot 46 and Parking Lot 47. Parking Lot 46 is not for visitors parking and does not have permit dispensing machines. It is for faculty & staff parking. Parking Lot 47 is for visitors parking and has a permit dispensing machine.
A valid UCD permit is required to park on campus. Daily Visitor Permits (VP) are available for $9.00 and may be purchased from the permit dispensing machine located at the entrance to Parking Lot 47. Visitors also have the option of purchasing a multi-use visitor permit (up to 10 uses) or an EasyPark Personal Parking Meter from the TAPS office. Permit dispensers accept Visa and Master Card only.
Visitor permits are valid for the date purchased and are honored in the parking lots Monday through Friday from 7:00 a.m. to 10:00 p.m. The cost of Visitor parking permits is not refundable. Permits should be displayed on the driver's side dashboard of the vehicle. Visitor permits are not honored in restricted spaces.

Parking Meters are available to any motor vehicle for the time purchased by coin (or when an EasyPark is displayed and in use), not to exceed the length of time posted for the area. Meter feeding is prohibited. The vehicle must be moved when the maximum time has elapsed.
[UCDavis Trasportation, Parking, and Airport Services (TAPS)]
Using Campus Map?
Click on the following link and then select the "Meyer Hall" from the drop down menu to view the campus map showing the location of Meyer Hall:
General Campus Map
Click on the following PDF file to print the campus map showing the location of Meyer Hall:
Campus printable map
Using a GPS?
The campus only has one actual address for the whole school, and if you enter that into your GPS or an online GPS website, it will not take you to the Meyer Hall. We recommend using the above directions.
Using Google Map?
If you would like to use Google Map, enter this address as your end point to arrive at the Meyer Hall:
La Rue Road and Bioletti way, Davis, CA or Meyer Hall, Davis, CA
Flying in to Visit?
Sacramento International Airport is the closest airport to UC Davis, located about 30 minutes away from our campus. Need a ride? We recommend contacting a local cab company or the Davis Airporter shuttle service at 1-800-565-5153.
Address
2223 Meyer Hall
Department of Animal Science
University of California
1 Shields Ave
Davis CA 95616 USA.
Phone: (530) 752-1251