AV System
The classroom is fitted with an Extron Pole Vault system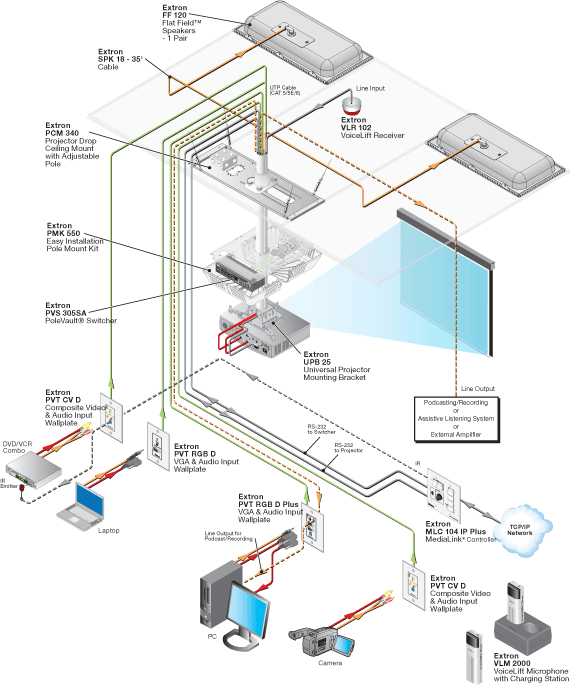 Laptop Connections
The podium, in the front of the room, is fitted with a cable cubby (black box on top towards the back right), where all the cables for a laptop connection are stored. It contains one power outlet, VGA cable, audio cable, and Ethernet cable.
Built-in Desktop Computer
The built-in desktop computer is a Dell Optiplex 7010 Small Form Factor Computer with 3rd Gen Intel® Core™ i7-3770 (Quad Core, 3.40GHz, 8MB w/HD4000 Graphics), 16 GB RAM, 500 GB of disk space, Dell Professional P2012H Widscreen 20 inch monitor, and 64-bit Windows 7 operating system.
Installed Software: Microsoft Office 2010 64-bit, R Studio, Java, NotePad++, Mozilla Firefox, MS Explorer, Google Chrome.
DVD/VCR Player
The podium is fitted with a DVD/VCR player. It is installed on the bottom shelf, behind the front door. The player is a Magnavox DV225MG9 DVD/VCR Combo Player. The remote control is anchored to the player and can be used to operate the player. Please shut off the player after use.
Document Camera
A document camera is a digital overhead projector with a video camera. It projects whatever you have placed on the white space under the camera in real time (it will project both transparencies and plain pieces of paper). It is mounted on a cart next to the podium. The document camera is a WolfVision VZ-8Light4 Desktop Visualizer.
The doc camera is connected to the built-in desktop computer with an USB over CAT5 cable. This allows you to run the document camera from the desktop computer.
Adobe Connect
The document camera is hard wired to the built-in computer with a CAT5 cable. Run the Connectivity software to access the document camera from the computer. In this mode, your documents will appears in the Connectivity window on your desktop and can be recorded using the Adobe Connect software.
Projector
The classroom is fitted two with a ceiling mounted front projector. This is a Mitsubishi WD620U Projector.
Besides the front projector, there is a side projector that projects onto a side screen. This is a Hitachi CP-X1200 Projector.
Screen
The front screen is a Da-Lite Cosmopolitan Electrol [Electric] - HDTV - 133", Matte White - 79014 (116 x 65 inch)
Besides the front screen, there is a side screen (Draper Premier) for the side projector.
Network Access
If your laptop is configured for DHCP, then you should be able to connect to the campus network. Note that you can access the campus network and not the Animal Science domain. There is no active telephone line in the classroom.
Getting Connected for Campus DHCP
Service Information
LCD Projector Maintenance:
Once a year have the projector fan cleaned out. Lamp life is 3,000 hours.
Lamp
Projector lamp for Mitsubishi XD600 projector
Part No: Mfg. Part: VLT-XD600LP
Vendor: PurelandSupply
Model#: XD600U
LampID: VLT-XD600LP
Price: $127.50 (as of 4 May 2017)
Description: Projector lamp for Hitachi CP-X1200 projector
Part No: Mfg. Part: HITACHI DT00591
Vendor: PurelandSupply
Model#: CP-X1200
LampID: DT00591
Price: $219.70 (as of 4 May 2017)
Air Filter
Description: Hitachi NJ08081 Air Filter, Hitachi, For Cpx1200
Mfg. Part Number: NJ08081
Vendor: MoeEStore
Price: $18.85
Maintenance History
Projector Lamp:
11/15/2012: The new Mitsubishi projector and the old Hitachi projector were installed.
02/11/2015: Hitachi lamp is replaced.
11/31/2016: Mitsubishi lamp is replaced.
05/02/2016: Mitsubishi lamp is replaced.
Projector Filter:
01/30/2013:  The filter for Hitachi CP-X1200 projector is cleaned up.
04/25/2103:  A new filter for Hitachi CP-X1200 projector is installed..
02/11/2015: The filter for Hitachi CP-X1200 projector is cleaned up.
04/10/2015: The filter for Hitachi CP-X1200 projector is cleaned up.
11/10/2015: The filter for Hitachi CP-X1200 projector is cleaned up.
03/10/2016: The filter for Hitachi CP-X1200 projector is cleaned up.
0/08/2018: The filter for Hitachi CP-X1200 projector is cleaned up
Contact
Abbas Ahmadi, 752-5886, abahmadi@ucdavis.edu