How to Use the System
The Projector Control is  installed on the wall next to the podium. This is where you control the LCD projector and volume. Next to the Projector Control is the Screen Control, which can be used to lower and raise the screen . An instruction sheet on how to use the Projector Control and Screen Control is posted on the wall and is also available online.
---
Extron Audio/Video System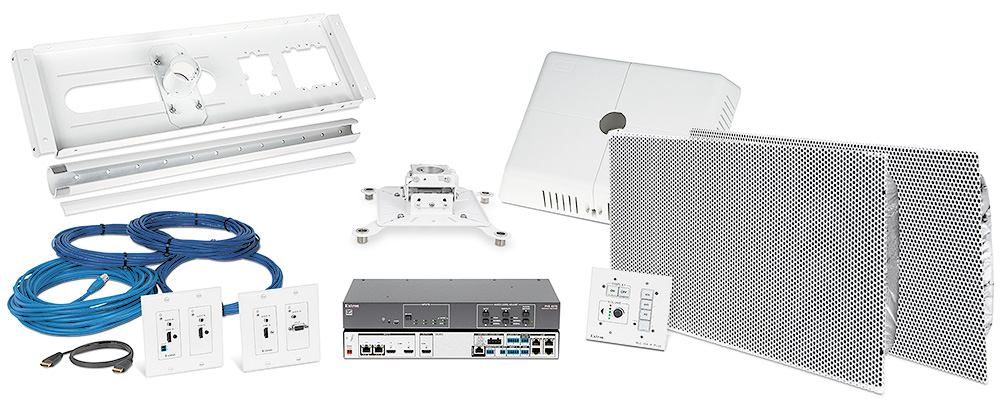 This classroom is fitted with an Extron PoleVault digital system model VS 401D (Part # 42-308-03) with four inputs.. The system includes a celling-mounted Digital Switcher model PVS 407D,  a wall-mounted MedialLInk controller model MLC 104 IP Plus, one pair of ceiling-mounted Flat Field Speaker model FF 120, one input wall plate with HDMI and VGA ports model PVT HD RGB, and one Dual HDMI input wall plate model PVT HDMI. 
Audio/Video Signal Routes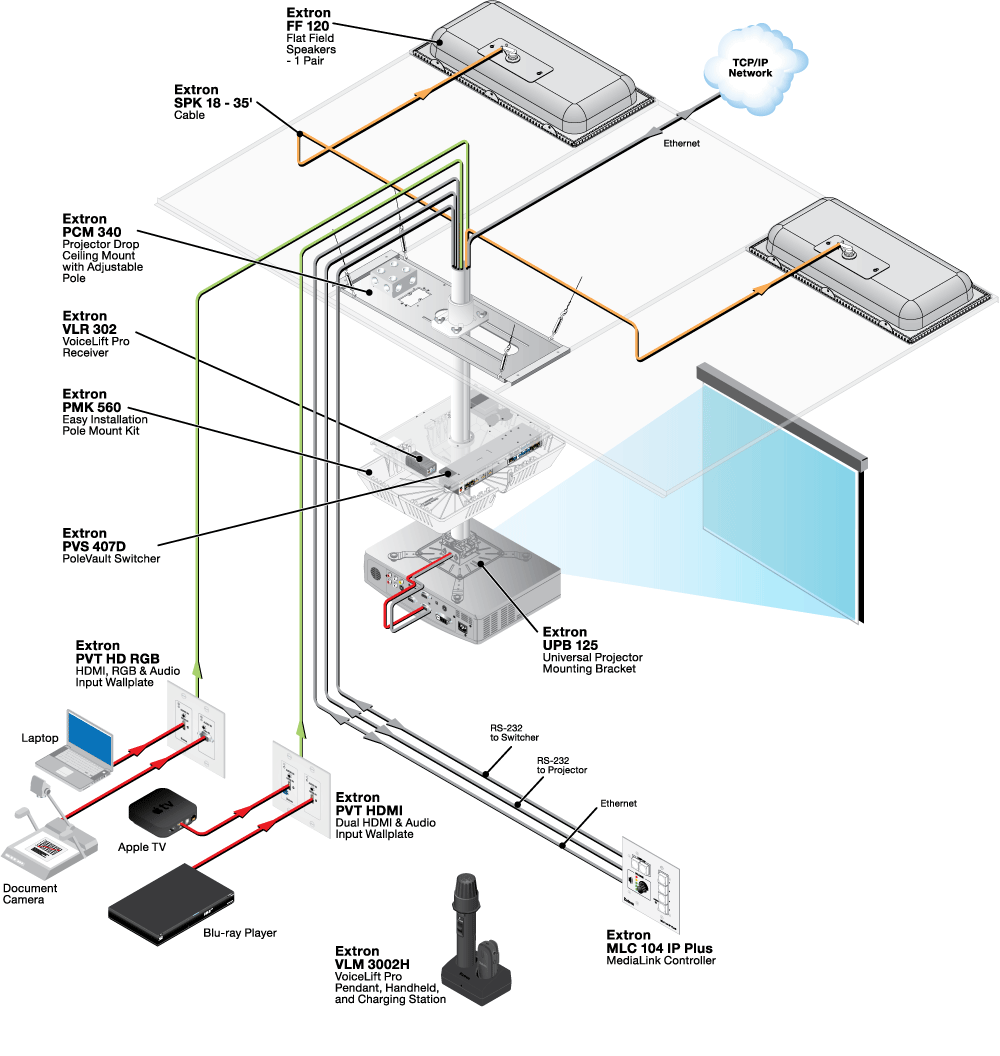 Desktop computer, laptop computer, DVD/VCR player, or document camera send audio/video signals to input face plates via VGA or HDMI cables. 
Input wall plates send digital audio and video signals to the switcher via 35 feet Shielded Twisted pair cables model XPT DTP 24P/35.
The switcher sends the HDMI video signals to a HDMI to VGA converter, and then the VGA signal is sent to the projector's "COMPUTER 1" port via a VGA cable.
The switcher amplifies audio signals and sends amplified audio signals to speakers viah 35 feet Extron speaker cables model SPK 10 cable.
Control Signal Routes
The controller controls both the switcher and the projector:
The controller sends control signals to the projector via a 50 feet projector communication cable model MLC IR/RS-232 P/50.
The controller sends control signals to the switcher via a 50 feet Power-Control-Audio cable model STP 20-2P/50.
---
Laptop Connections
The podium, in the front of the room, is fitted with a cable cubby (black box on top towards the back right), where all the cables for a laptop connection are stored. It contains one power outlet, VGA cable, audio cable, and Ethernet cable.
Built-in Desktop Computer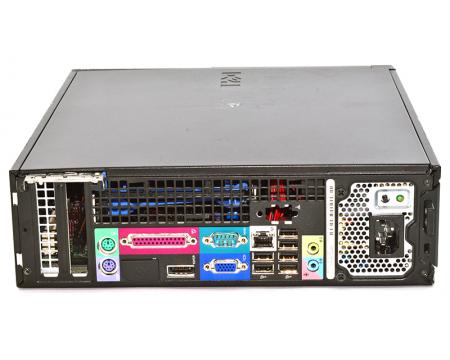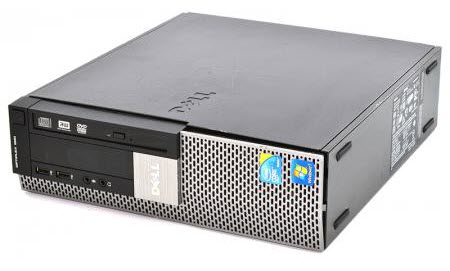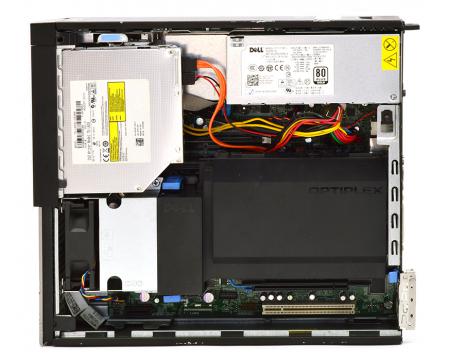 The built-in desktop computer is a Dell Optiplex 980 Small Form Factor Computer with Intel® Core™ i5 (3.20 GHZ, 4M), 8 GB RAM, 320 GB of disk space, Dell Professional P1909W Widscreen 19inch monitor, and 64-bit Windows 10 operating system. Installed Software: Microsoft Office,  R Studio, Mozilla Firefox, MS Explorer, Google Chrome. 
Specifications:
Case Type: Small Form Factor
Processor: Intel Core i5 (i5-650) 3.2GHz Dual Core Processor
Memory: DDR3
Total Memory Slots: 2
Hard Drive: 3.5" SATA
Expansion Slots: (2) PCI-E x16 Half Height, (2) PCI Half Height
Optical Drive: Yes
Network Connections: Gigabit Ethernet
Front USB Port(s): 2 (2.0)
Rear USB Port(s): 6 (2.0)
VGA Port(s): 1
DVI Port(s): 0
HDMI Port(s): 0
S-Video Port(s): 0
Firewire Port(s): 0
DisplayPort(s): 1
eSATA Port(s): 1
SD Card Reader Port(s): 0
Serial Port(s): 1
Parallel Port(s): 1
PS/2 Port(s): 0
Headphone / Speaker Jack(s): 2
Microphone Jack(s): 2
Inside-Podium Extron VGA Switcher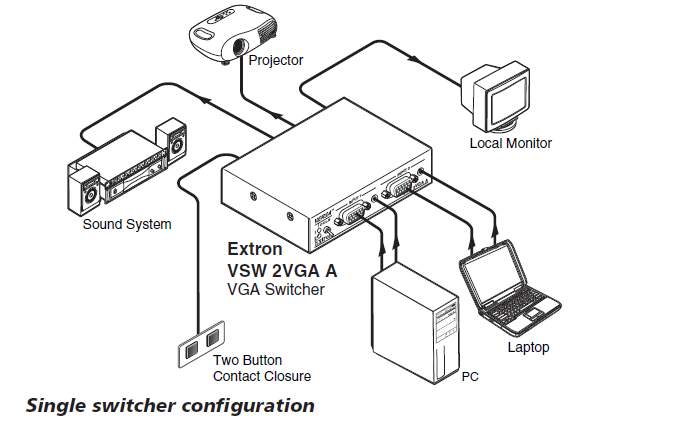 The laptop and the desktop computers are connected to an automatic Extron VGA switcher (model VSW 2VGA A), as shown in the above picture.
To enable the Auto-switching mode for the VGA switcher, we have connected both pins 1 and 2 to the ground (pin 3). To enable the presenter view for the desktop computer, we disconnected the local monitor from the "Inside-Podium Extron VGA Switcher" and connected it to the desktop computer's Display port using a "DisplayPort-to-VGA" adapter. 
DVD/VCR Player
The podium is fitted with a DVD/VCR player. It is installed on the bottom shelf, behind the front door. The player is a Sony SLV-D380P DVD/VCR Combo. The remote control is anchored to the player and can be used to operate the player.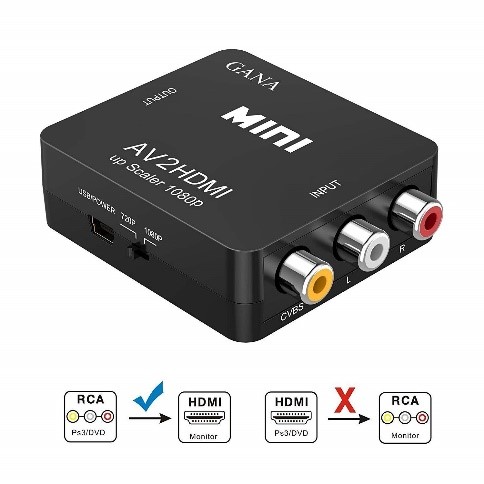 The DVD/VCR player is fitted with an RCA to HDMI convertor (Amazon catalog # B01L8GG6PW) and  and sends audio andvideo signals to the input face plate by a 15 feet HDMI cable. The power to the convertor is provided an a USB wall charger (Amazon catalog # B00WLO2EGG).
Document Camera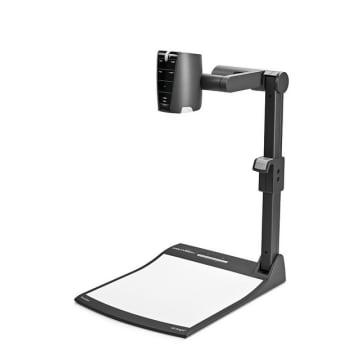 A document camera is a digital overhead projector with a video camera. It projects whatever you have placed on the white space under the camera in real time (it will project both transparencies and plain pieces of paper). It is mounted on a cart next to the podium. The document camera is a WolfVision VZ-8Light3 Desktop Visualizer. The doc camera is connected to the built-in desktop computer with a USB cable. This allows you to run the document camera from the desktop computer.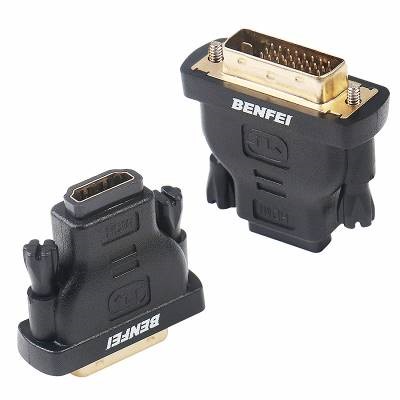 The doc camera is fitted with a DVI to HDMI adaptor (Amazon catalog # B07CXY79KR) and sends video signals to the input wall plate by a 15 feet HDMI cable. 
LCD Projector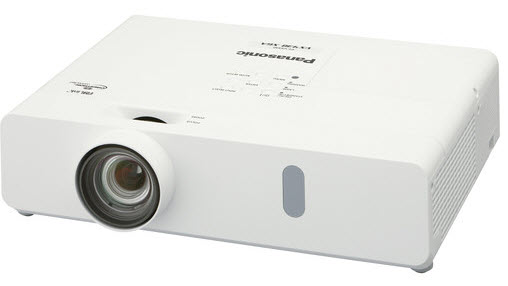 The classroom is fitted with a ceiling mounted Panasonic PT-VX430U Projector with 4,500 lumens of brightness, 15000:1 contrast ratio, 7,000 hours of lamp life, XGA (1024 x 768) resolution, and 4:3 aspect ratio. 
The Extron switcher sends HDMI signals to the projector's both HDMI1 and HDMI2 port via a HDMI splitter (Amazon catalog # B005HXFARS ), shown below: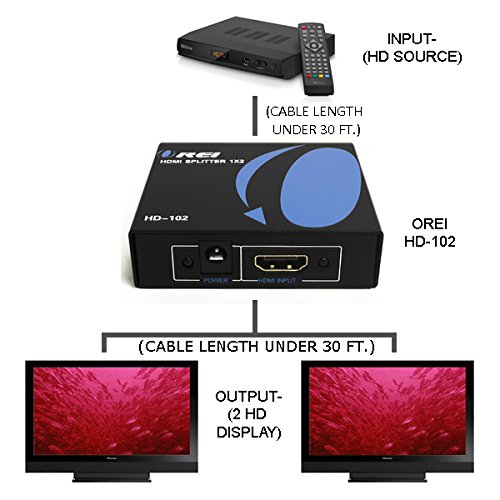 Screen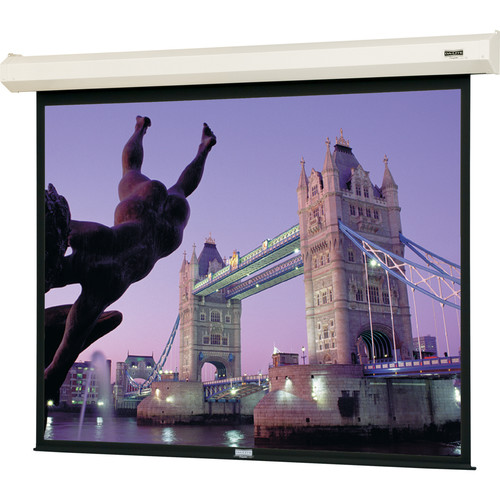 The screen is a Da-Lite 40782 Cosmopolitan Electrol Projection Screen - 60x80" - 100" Diagonal - Video Format (4:3 Aspect Ratio) - Matte White Mfr # 40782
---
Network Access
If your laptop is configured for DHCP, then you should be able to connect to the campus network. Note that you can access the campus network and not the Animal Science domain. There is no active telephone line in the classroom.
Adobe Connect
The document camera is hard wired to the built-in computer with a USB cable. Run the Connectivity software to access the document camera from the computer. In this mode, your documents will appears in the Connectivity window on your desktop and can be recorded using the Adobe Connect software.
There is also a USB port in the middle shelf of the doc camera cart which is connected to the desktop computer. You can plug in your USB microphone to this port and then record your lectures using the Adobe Connect software.
---
Service Information

LCD Projector Maintenance:
Replacement Panasonic ET-LAV300 Lamp
$256.25 (as of May 2019)
from https://www.bhphotovideo.com  
B&H # PRETLAV300 MFR # ET-LAV300
https://www.bhphotovideo.com/c/product/1371931-REG/just_lamps_et_lav300_original_lamp_for_panasonic.html
Replacement Panasonic ET-RFV300 Filter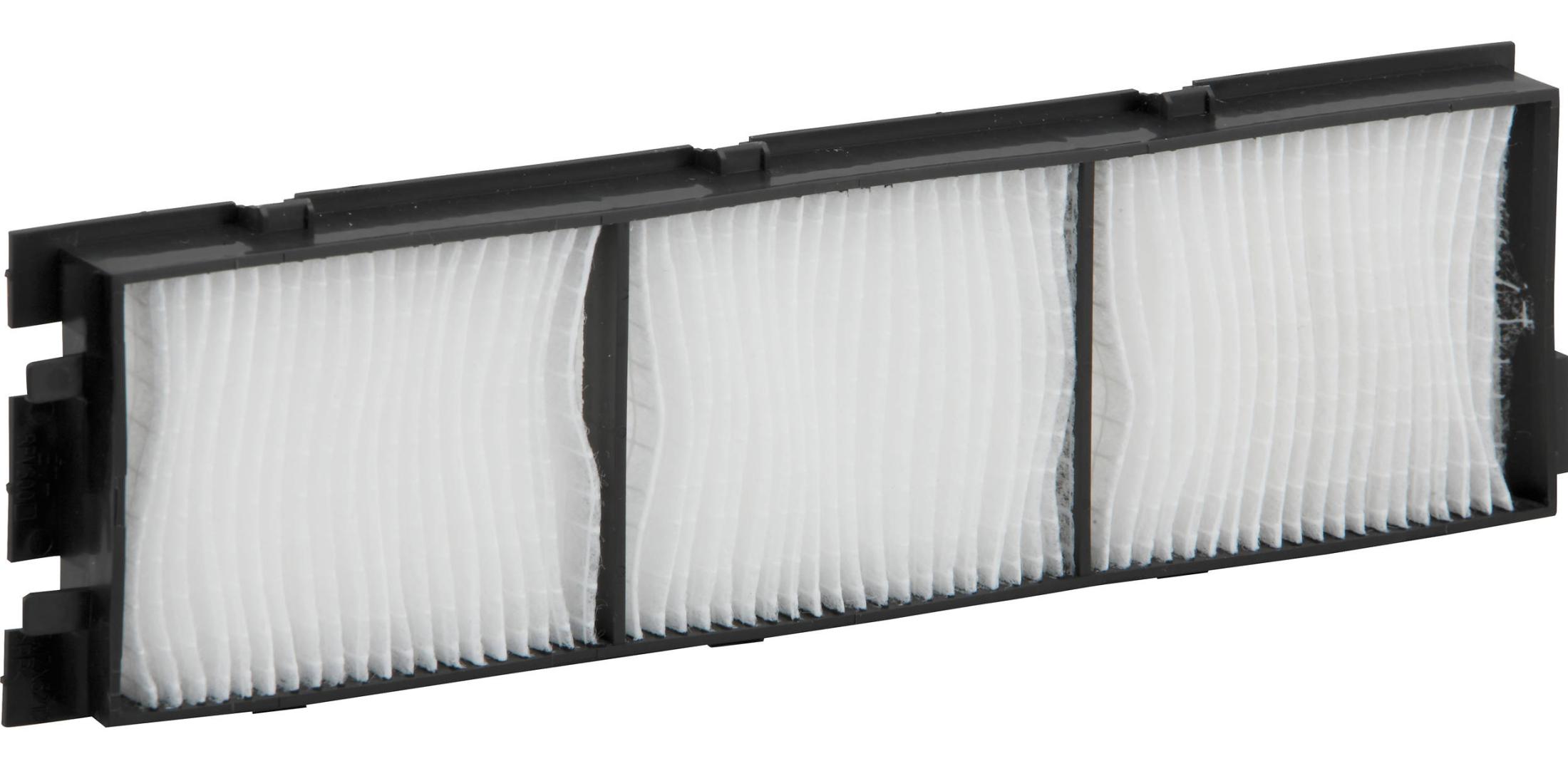 $78.95 (as of May 2019)
from https://www.bhphotovideo.com
B&H # PAETRFV300 MFR # ET-RFV300
https://www.bhphotovideo.com/c/product/1040800-REG/panasonic_et_rfv300_replacement_filter_for.html  
Document Camera Maintenance:
Replacing the Lamp
Lamp for Portable model VZ 5,7, & 8 series. WolfVision part # 100040
$28.00 (as of May 2019)
from BilbSource vendor at: 
https://www.bulb-source.com/Wolfvision.replacement.parts.lamps.htm 
Lamp type: High Frequency Lamp 9W at 10,000 hours average burning life
Instructions:
Remove the power cord of the Visualizer
Open the cover screw by using a coin
Turn down the lamp inclusive lamp cover
Change the lamp Place the new lamp very carefully into the socket . CAUTION: LAMP CAN BE HOT!
Mount the lamp cover in reverse order (3 to 1).
Cleaning the Unit
Cabinet: Clean the cabinet by gently wiping it with a soft, lint free cloth.
Lenses: Clean the lenses by gently wiping with a soft, lint free cloth (do not use a paper tissue!). Clean by breathing on the lens to create moisture then wipe with lint free cloth. If need be, use a special optical cleaner only.
Warning: Never use strong cleaning agents such as acetone or benzene! These substances can damage the surface and the anti-reflex coating!
---
Repair Log
05/05/ 2019: We upgraded the Audio/Visual system in this classroom. We kept the existing computer, document camera, and DVD/VCR player, but replaced the projector, controller, switcher, amplifier and speakers.
05/05/2119: the old projector, the old controller, the old  amplifier, and old speakers are kept as spare parts.
05/21/2018: Panasonic PT-VX430 Projector was sent to Panasonic for warranty repair of HDMI-1 and HDMI-2 ports.   
Maintenance Log
08/03/2010: Hitachi Projector lamp was replaced (ANSCI)
11/05/2014: Hitach Projector lamp was replaced (ANSCI)
---
Contact
Abbas Ahmadi (752-5886, abahmadi@ucdavis.edu)