AV System
The classroom is fitted with an Extron Pole Vault system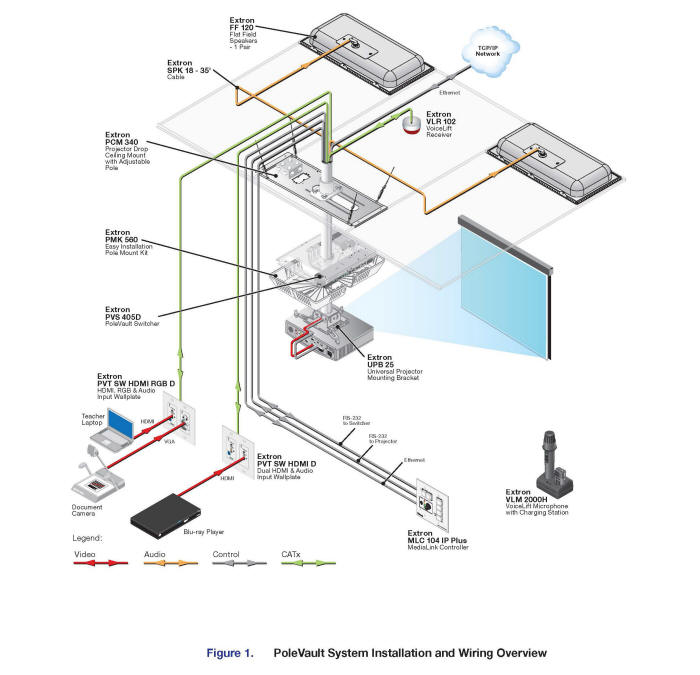 Laptop Connections
The podium, in the front of theroom, is fitted with a cable cubby (black box on top towards the back right), where all the cables for a laptop connection are stored. It contains one power outlet, VGA cable, audio cable, and Ethernet cable.
Built-in Desktop Computer
The built-in desktop computer is a OptiPlex 7020 SFF;OptiPlex 7020 Small Form Factor, with 16 GB of memory, 500 GB of hard drive, and Intel Core i& processor (Quad Core, 8MB, 3.60 GFz). It is running under Windows 8 operating system (64-bit version).
Installed Software: Microsoft Office 2013, Java, Adobe Connect, and Silverlight.
DVD/VCR Player
The podium is fitted with a DVD/VCR player. It is installed on the bottom shelf, behind the front door. The player is a Sanyo FWDV225F DVD/VCR Combo Player. The remote control is anchored to the player and can be used to operate the player. Please shut off the player after use.
Document Camera
A document camera is a digital overhead projector with a video camera. It projects whatever you have placed on the white space under the camera in real time (it will project both transparencies and plain pieces of paper). It is mounted on a cart next to the podium. The document camera is a WolfVision VZ-8Light4 Desktop Visualizer.
The document camera is hard wired to the built-in computer with a USB cable. Run the Connectivity software to access the document camera from the computer. In this mode, your documents will appears in the Connectivity window on your desktop and can be recorded using the Adobe Connect software.
Camcorder
This lab is equipped with a Canon VIXIA HF R500 Digital Camcorder, mounted next to the podium. This camcorder is used to display a laboratory procedure onto the screens. It can also be used to record a laboratory procedure onto its memory card to be posted onto UC Davis SmartSuite or onto popular video servers such as YouTube.
Webcam System
This room is equipped with a Logitech C920 webcam for Skype and AdobeConnect. The webcam support 1080p signals in native resolution format, which means they are a true 1920 pixels in width and 1080 pixels in height.
Projector
The classroom is fitted with three ceiling mounted front projector: Panasonic PT-VW530 Projector.
Screen
The classroom is fitted with three screens: Da-Lite 34463 Cosmopolitan Electrol High Power Surface:113 Inch Diagonal 60" x 96" (H x W), 16:10 Format. Case width 9':00", Screen width 8':00"
Network Access
If your laptop is configured for DHCP, then you should be able to connect to the campus network. Note that you can access the campus network and not the Animal Science domain. There is no active telephone line in the classroom.
---
Service Information

LCD Projector Maintenance:
Once a year have the projector fan cleaned out. Lamp life is 3,000 hours.
Panasonic lamp
Description: Panasonic ET-LAV400 Projection Lamp
LampID:ET-LAV400
 
Filter
Description: Panasonic Panasonic Micro Cut Filter
Part No: MFR # ET-RFV400
Maintenance Schedule
September 25, 2015: Initial Installation.
Contact
Abbas Ahmadi, 752-5886, abahmadi@ucdavis.edu