Horse Barn Ultrasound Display System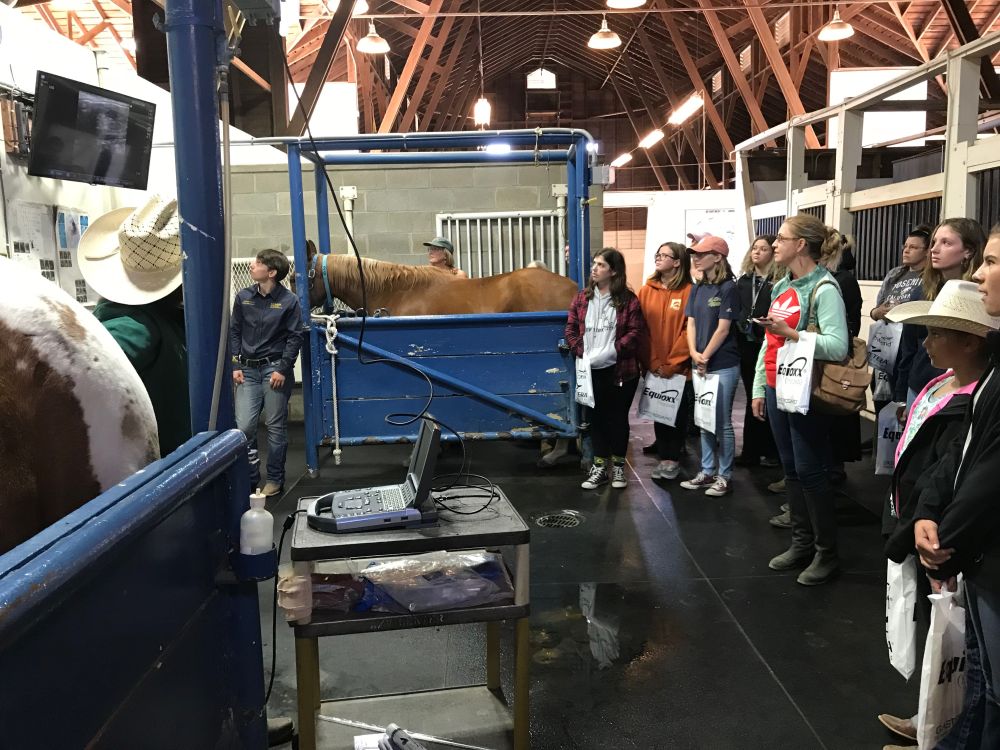 An ultrasound is a convenient and valuable way to image internal structures of a horse such as a mare's reproductive tract, ovaries, fetus, etc. It uses transmission of sound waves to create a picture on the screen, allowing the operator to get a real time look at what is happening inside the horse. We use a SonoSite M-Turbo Ultrasound machine with a linear probe for purposes of tracking the reproductive cycles and pregnancies of broodmares. This machine has a small display screen, which makes it difficult for large groups of students to observe and learn from the ultrasound exam during a palpation. To solve this problem, the ultrasound machine was fitted with a Mini-Dock Station (REF# P10401-02), with a DVI video output port, to send video streams from the ultrasound machine to a large 43-inch wall-mounted monitor. The monitor is a Philips 43-inch Monitor, model BDM4350UC, which is connected by a "HDMI cable" and a "DVI-to-HDMI adapter" to the Mini-Dock. The instructor rolls out the ultrasound machine on a cart and connects it to the HDMI box installed at the horse stock so that the students can easily watch the ultrasound video on the wall-mounted large screen instead of crowding around the small monitor on the ultrasound.
The Horse Barn Ultrasound System was designed by Abbas Ahmadi and installed by Jose Villasenor and Ryan Michael Vanderford (Senior Maintenance Workers) on September 7, 2018. The original idea for the system was a collaboration by Professor James Murray, Chair of our department, and Horse Barn manager, Kelli Davis.