Anita Oberbauer Wins Teaching Prize
By Dateline Staff

Pardon the interruption, students, but we wanted you to know the animal science professor standing in front of you, Anita Oberbauer, whom you fondly call "Dr. O," is the recipient of the 2018-19 UC Davis Prize for Undergraduate Teaching and Scholarly Achievement.
That's how it went early Monday afternoon (March 4) when Chancellor Gary S. May, accompanied by other administrators and UC Davis Foundation Trustee Kevin Bacon, walked into the social sciences lecture hall during ANS 42 ("Introductory Companion Animal Biology") to make the surprise presentation.
The prize amount rose this year to $50,000, funded through philanthropic gifts managed by the UC Davis Foundation.
Chancellor May commended Oberbauer for "the passion, mentorship and expertise she has brought to our teaching and research mission in her 30 years at UC Davis."
Student evaluations factored in
"Student evaluations are a large part of determining the winner of this prize," the chancellor said. "We didn't have to crunch the numbers too long to see that students truly love her classes."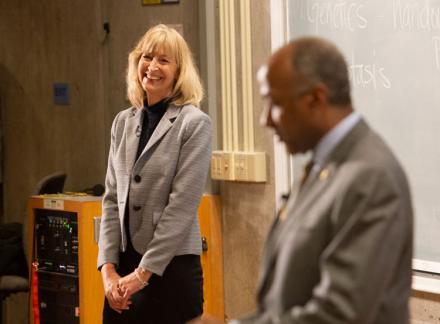 Oberbauer, in turn, recognized her students. "I am extremely humbled and honored to be recognized with this prestigious award," she told Dateline UC Davis. "Although this award recognizes a single recipient, it also recognizes the students. … The students' curiosity, questions and interest build that desire to be a better instructor. For that I am indebted to the students.
"I'm also very privileged to be a faculty member here at UC Davis, a top university that values and rewards a commitment to student learning.  That is really special. Very special indeed."
Helene Dillard, dean of the College of Agricultural and Environmental Sciences, which includes the Department of Animal Science, nominated Oberbauer for the teaching prize, describing her as an "Aggie's Aggie." Her time as an Aggie dates back to her undergraduate studies in zoology, earning a Bachelor of Science degree with the highest honors in 1980.
Innovator in curriculum
She joined the faculty in 1989 after earning a Ph.D. in animal science from Cornell University and completing postdoctoral fellowships at Loma Linda University and UCLA. She is a former animal science department chair who now serves as associate dean of agricultural programs in CA&ES.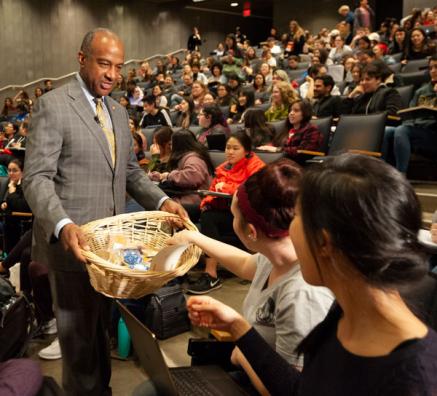 Her nominators praised not only her teaching but her innovative curricular development, especially in the field of companion and captive animals, including dogs, cats, pocket pets, reptiles, fish and birds.
"Prior to Professor Oberbauer's hiring, the ANS major curriculum had little emphasis on the biology of companion animals," Dillard wrote in her nomination. "However, the student population increasingly expressed keen interest in courses and career paths associated with companion animals.
"As one might imagine, this was a controversial move for a historically farm-animal production-oriented unit, yet (then-) Assistant Professor Oberbauer rose to the task, believing in the benefits of this evolution for the department and for its students," Dillard wrote. Today, about 50 percent of animal science majors opt for the companion and captive animal specialization — making it the most popular in the major.
Dillard also praised Oberbauer for her mentoring and advising, noting that she has trained more than 25 Master's of Science and Ph.D. students.
In her research, Oberbauer studies animal growth and development and the genetic of traits, particular in dogs, as well as in cattle. She has published more than 100 peer-reviewed articles.
High demand for class
James Murray, animal science professor and department chair, commented on Oberbauer's development and teaching of the lower-division ANS 42 and upper-division ANS 142, designing them to be both rigorous and science-based, like comparable departmental courses taught for livestock and dairy.
"The lower-division course (ANS 42) was designed to teach historical and contemporary perspectives as well as biological aspects of companion animals," Murray said. "The course was further designed to satisfy the campus General Education writing requirement and almost immediately attracted an enormous enrollment that challenged the campus to find a lecture hall large enough to accommodate the large number of students."
A lecture hall like 1100 Social Sciences and Humanities Building where she received the teaching prize this week. Some 300 students looked on, applauding their professor and celebrating with cookies handed out by the chancellor and others.
About the author(s)
Dateline Staff Dave Jones, editor, can be reached at 530-752-6556 or dljones@ucdavis.edu. Cody Kitaura, news and media relations specialist, can be reached at 530-752-1932 or kitaura@ucdavis.edu.
Primary Category