1901-1995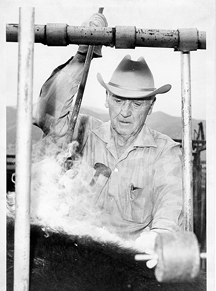 Reuben Albaugh was born near Pittville, Lassen County, California and raised on a diversified livestock ranch. He recieved a BS in Animal Husbandry at Oregon State University in 1925, participating in the agricultural fair, judging team, boxing team, and Alpha Zeta.
In 1927, Rube married Vira McKenzie. That same year, he was employed by the University of California Cooperative Extension Service. He officially retired in 1967, but continued active as an emeritus for another 23 years. Even after that he could be found often in his office in the Department of Animal Science at UCD, working on publications and correspondence until a few days before his death on October 8, 1995.
From 1927 to 1949 Rube was a livestock farm advisor in Monterey County. He supervised the 4-H Club program for 8 years, and for 22 years was in charge of the Dairy Program, helping the dairy herds in the county be among the highest producers in the state. He was instrumental in obtaining 5 Thoroughbred remount stallions for enhancing the quality and performance of light horses in the county.
Reuben was a popular and well-known livestock judge. He chaired the grading committee at the Red Bluff Bull Sale for 14 years and the County of Modoc Bull Sale for 17 years.
In 1949 he transferred to UC Davis, where he served as Extension Animal Husbandman, responsible for livestock programs in the northern half of California. He was instrumental in development of the Record of Performance Program for both cattle and sheep. He was also a prime mover in the formation of the California Beef Cattle Improvement Association. As an emeritus, Rube was in charge of the Statewide Extension Horse Program.
The 'old buckaroo' was a popular speaker, outstanding teacher, and prolific writer. For 20 years he was on the committee to select the "Livestock Man of the Year". We miss him. im.