1893-1968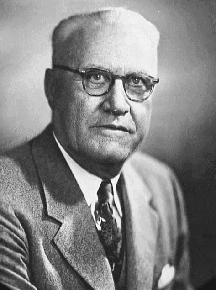 W. Hugh Baber was born in Maxwell, Colusa County, California. His career paralleled history in the Sacramento Valley. In 1919 he was employed by the Parrott Investment Company to supervise construction of an irrigation system on its Llano Seco Rancho in Butte County. He stayed on as Ranch Superintendant until his death in 1968, also serving as a director of the Company from 1964-1968. Under his management the ranch changed from a wheat ranch in the early twenties to a diversified operation marketing over 4,000 cattle, 8,000 sheep, 5,000 hogs, 1,200 acres of rice, and 8,000 acres of barley, wheat, milo, safflower, alfalfa, and row crops per year.
Hugh Baber helped found the Rice Growers Association of California in the early twenties, serving on its Board of Directors, and as vice-president until his death. He was actively involved in the formation of the California Central Valley Flood Control Association between 1948 and 1965, serving first as vice-president and later as president, continuing on the Executive Committee until 1968. He also helped found the Sacramento River and Delta Water Users Association and was its first president from 1954 to 1968. When it became apparent that it was economically more feasible to market cattle as a finished product than as feeders, Hugh planned and built a feedlot that could feed 4,000 cattle a year.
For more than 25 years Hugh Baber served as a director of the California Wool Growers Association, serving as president from 1931-1933. He was elected president of the California Cattlemen's Association from 1937-1939. In 1953 Hugh was chosen "California Livestock Man of the Year" by the San Francisco Chamber of Commerce. He testified before the U.S. Tariff Commission hearing in Washington D.C. in 1960 on the impact of imports of meat and wool. He was president of the National Wool Growers Association from 1963-1964. In the spring of 1971 Hugh was inducted into the Hall of Great Westerners in the National Cowboy Hall of Fame and Western Heritage Center in Oklahoma City as "one of California's outstanding stockmen for 48 years, being largely responsible for the successful farming and irrigation of the Sacramento Valley, a pioneer in rice farming, feedlot operations, and water control projects". With all of his intensified farming and management problems, Hugh was never to busy to visit with friends and lend a helping hand. He devoted his abilities, time, and energy without limit to civic affairs, and to the betterment of agriculture and his fellow livestock men.