1935-2007
L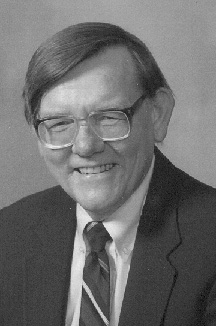 ee Baldwin was born on a dairy farm in Meriden, Connecticut, the eldest of 3 children. He attended Trumbell School, Jefferson Junior High and Meriden High School. He met his future wife, Mary Ellen, in 1953 upon graduation from high school. As a boy he participated in the St. Andrews Boy's Choir and was an interested student and athlete. He was starting center and linebacker on his high school football team. He went on to the University of Connecticut where he earned a BS in Animal Industries in 1957. Then it was on to Michigan State University and an MS in Dairy Nutrition and a PhD in Biochemistry and Nutrition in 1963. He was a National Science Foundation Fellow from 1957 to 1961.
The Animal Science Department at UC Davis hired him in 1963 and he remained there for his entire career, retiring in 2001. His academic accomplishments, publications, and research activities in the fields of dairy science, endocrinology, nutritional research and energetics, ruminant digestion and metabolism, and other areas related to animal science resulted in numerous awards and honors, crowned by his election to the National Academy of Sciences.
Lee started his career as an experimentalist utilizing mathematical modeling to study carbohydrate metabolism in rumen microbes and later to characterize enzymatic changes in mammary tissue during late pregnancy and early lactation in a number of different animal species. A crowning achievement was the successful development of innovative mechanistic dynamic research computer simulation models for beef and dairy cattle that integrated enzyme, cellular, tissue, and animal level knowledge into an accurate prediction of productivity based on feed and physiological characteristics.
During his career, Lee took his family along on sabbaticals to Philadelphia, Raleigh, Castle Hill (Australia), Palmerston North (new Zealand), and Henley-on-Thames (UK). He was an avid deep sea fisherman, a voracious reader especially of science fiction, and a man who loved bragging on his children and grandchildren. He and Mary Ellen opened their home to pets, students, visiting scientists, acquaintances, and lost souls. So much so that, for a time, the house was known as 'Baldwin's Bed and Breakfast'.
Lee was a passionate educator with an gift for challenging his students to integrate knowledge from different disciplines.