1919-1994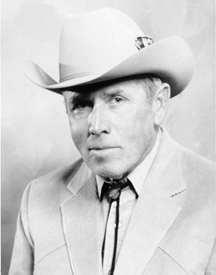 Glenn Barnes was born in Porterville, California, and raised in Tulare County where his father managed fruit orchards. Glenn's boyhood dream was to be a rancher.
After graduation from UCD in 1942, Glenn was herdsman for a large purebred dairy in Exeter. In 1946 Glenn and his wife, Betty, purchased their home ranch in Scott Valley near Etna. Through years of hard work and sound management the ranch and cattle herd were expanded and improved. Glenn worked closely with the UC Cooperative Extension Service. He was among the first cattlemen to use artificial insemination to improve the genetic base of his herd and to use crossbreeding to increase productivity.
His service to fellow cattlemen and the community at large was great and continuing. When he started ranching, he joined the Farm Bureau at both the local and county levels. He served as president of the Siskiyou County Farm Bureau and for over thirty years was the County Director. His work on statewide legislative committees over the years included water rights matters, the Williamson Act (on agricultural land protection), and land tax reforms. He was honored as County Farm Bureau "Man of the Year" in 1976. Glenn served a six year term as director for the Federal Land Bank Association of Alturas. He was an active member and leader of both the Siskiyou County and California Cattlemen's Associations. He worked on livestock improvement projects as well as important legislative committees. In 1980 he was named "Cattleman of the Year".
The 4-H Club had benefitted Glenn as a boy in Tulare County and at UCD. After moving to Scott Valley, the Barnes' helped revitalize the local club and served for years as Leaders and supporters.
Glenn was a true student of agriculture and a prolific reader. He had a keen mind, practiced sound judgement, and possessed the virtues of patience and a fine sense of humor. In response to one of his many honors, he was quoted as saying, "I hope I can leave this land and community better for having walked through it." He was a man who quietly and happily lived out this philosophy to the benefit of all.