1888-1968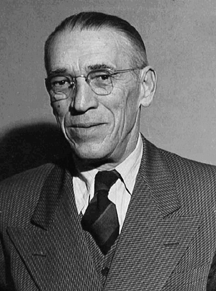 Daniel T. Batchelder was born and raised in Clinton, Iowa. He attended Iowa State University at Ames, Iowa, graduating in 1913 with a degree in Animal Husbandry.
His first position following graduation was managing a large stock farm in New York. From there, the American Smelting and Refining Company hired him to go to Utah to investigate the effect of air pollution on animal health in the Salt Lake Valley. He then went to Lamar, Colorado, as manager of a dairy herd.
He came to the University of California in 1919 as an instructor in Animal Husbandry on the Davis campus. The following year he joined the staff of the Agricultural Extension Service and served as the first Farm Advisor in Santa Barbara County. The Farm Bureau Federation had just been organized and among his first jobs were setting up farm center programs and a cow testing association.
In 1925 he left the Extension Service to become a manager of Rosemary Farms at Santa Maria. Here he developed a herd of Holstein dairy cattle, outstanding in both the milking parlor and the show ring.
"Batch" returned to Extension in 1935 and, with headquarters in Berkeley, served as a Specialist in Animal Husbandry; in 1941 he became Dairy Specialist. During World War II he was assigned the position of Assistant State Supervisor of the Emergency Farm Labor Program. In 1948, in recognition of his administrative ability, he became Assistant State Leader in Extension, in charge of the northern counties, a position he held until his retirement in June, 1955.
He was widely recognized as a leader in the dairy industry and much of his professional career was devoted to promotion of the Dairy Herd Improvement Program. In addition, his keen interest and overall knowledge in the production of all farm animals commanded the respect of the entire livestock industry. Batch had the enviable ability to get along well with people and he used exceptional judgement in meeting situations. With these qualities and with a keen sense of humor, he was loved and respected by all with whom he worked.