1903-1989
G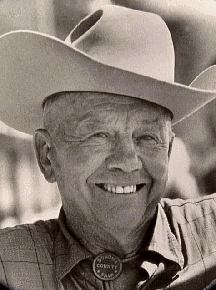 eorge H. Bath was born in England and immigrated to the United States with his parents when he was ten years old. His father was a silver miner in Manhattan, Nevada, for a few years before the family settled on a small farm in Santa Rosa. George attended Santa Rosa High School and Santa Rosa Junior College then enrolled in the Animal Husbandry major at UC Davis, graduating with a Bachelor of Science degree in 1927. While at Davis, his activities included captaining the varsity basketball team, chairing Picnic Day, and being a member of the livestock judging team.
After graduation, George took a job as a vocational agriculture instructor at Santa Rosa High School. Concurrently, he operated a small dairy farm and a home milk delivery business in Santa Rosa. During his seven years at Santa Rosa High School, George coached four California State Champion Future Farmers of America Livestock Judging Teams. In 1929 George married Esther June Sandstrom ("the smartest thing I ever did").
In 1934, George accepted the position of Livestock Advisor in Kings County with responsibility for extension work in livestock, dairy and 4-H Clubwork. George became a statewide 4-H Specialist headquartered on the Berkeley campus in 1940, a position he left in 1942 to become manager of a large chicken broiler ranch in Santa Rosa. After that he served a short stint as an appraiser for the Bank of America before returning to the Extension Service in 1951, serving as County Director in Sonoma County until his retirement in 1967.
In retirement George built up a small herd of registered Polled Hereford cattle. He exhibited regularly at the Sonoma County Fair until he was eighty-five years old. Every year now a trophy is given in his name to the beef cattle exhibitor who does the most to help other exhibitors at that Fair.
George Bath's life was dedicated to educating and helping others in the field of Animal Science. Following his death in 1989, Tim Tesconi of the Santa Rosa Press Democrat wrote, "George knew livestock husbandry and preached agricultural productivity. He was an agrarian missionary and rural sociologist rolled into one. But he was blessed with the common sense of someone who has experienced life and relished its challenges. He was hard-drinking, fun-loving and totally dedicated to the farmers he served.