1920-2002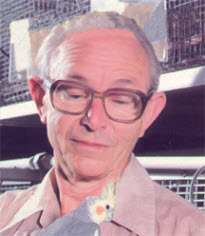 Dick Grau grew up in the San Diego, California area where his father operated a chicken hatchery. As a boy he was allowed to tramp through the mesas, play by the San Diego River, and conduct science experiments in the family basement.
When Dick was an undergraduate chemistry major at UC Berkeley, he worked part-time as an analyst in a laboratory in the Department of Poultry Husbandry. In 1941 he married Lois Sandner. In 1942 he graduated and elected to do graduate work in nutrition studying protein quality and determining amino acid requirements of chickens. This was at a time before amino acid analyzers were heard of and few amino acids were readily available. His mentor left the University about the time Dick finished his thesis leaving open a faculty position that Dick was asked to fill. He continued his amino acid and protein work and was the first to show that the requirement for an amino acid increases with an increase in the protein level of the diet.
In 1954, Asmundson Hall on the UC Davis campus was completed and Dick was transferred from Berkeley. In Davis Dick worked on determining factors that influence the nutritional quality of fishmeal, a major feed ingredient at the time. He also studied means of evaluating cottonseed meal to determine whether it was adequately processed to prevent egg discoloration. Dick made important discoveries in embryo nutrition and studied yolk development in several different avian species. Prompted by the adverse effects of oil spills, he studied the effects of various oil fractions on sea birds. In response to student interest, in 1979 Dick began Psittacine research, developing a sizeable cockatiel colony and determining breeding, embryonic development, and nutritional requirements of these companion birds.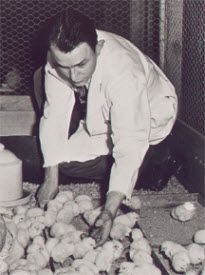 Dick taught courses in general nutrition, biology of the egg, caged bird management, and special seminars. He was one of the originators of the popular AVS013 Birds, Man and the Environment class. He was chairman of the department from 1969 to 1976, served on many campus committees, received a Guggenheim Fellowship in 1960 for research at Cambridge, spent sabbatical leaves in Cambridge and Edinburgh, New Zealand, and at Brookhaven National Laboratory on Long Island.
From their first days in Davis, the Graus were active in numerous humanitarian and community service organizations, with a focus on world peace, social justice, and environmental protection. They were founding members of the Davis Unitarian Church and among the organizers of the Davis group serving meals at Loaves and Fishes in Sacramento. They were also active in STEAC and received the C.A. Covell Trophy as Citizens of the Year in 1978 in recognition of their service to the Davis Community.