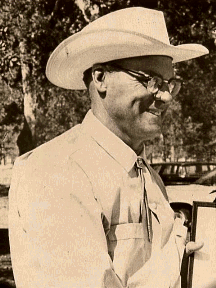 Bill Lyles was born in Leesville, Louisiana, and spent his boyhood on a farm in Texas. He attended Purdue University and later became a successful engineer and businessman. His first love was cattle. He lost his life while working cattle on his ranch near Parkfield in Monterey County. He owned a second ranch in Merced County where he ran purebred Aberdeen Angus cattle.
Bill, who made his home in Avenal, was an active civic leader. He was a member of the Animal Husbandry Advisory Committee. The 1966 annual meeting of the California Beef Cattle Improvement Association (CBCIA) was dedicated to him.
His Angus were one of the charter herds enrolled in CBCIA and had been on the Record of Performance program prior to the organization of the Association. Bill believed in performance testing and used these records in managing and improving his cattle.
Bill Lyles was first elected to the Board of Directors of CBCIA in 1961. He served as secretary-treasurer and was elected president in 1963 and again in 1964. He was serving as vice-president and a member of the executive committee at the time of his death.
At all times Bill gave of his time and experience unselfishly. His great dedication to service was apparent in his attention to detail, his discernment of the best interests of CBCIA as an organization, and his concern for the welfare of the individual member.