AV Rover 200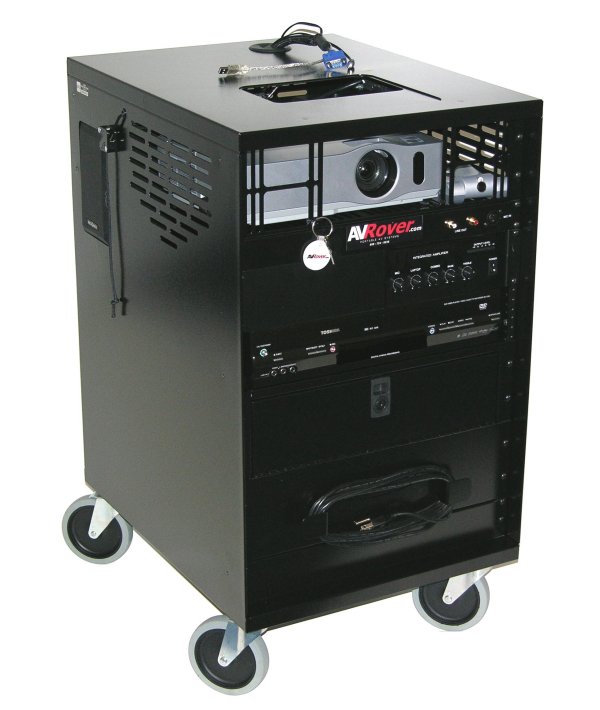 The The AV Rover system is fitted with a projector, a DVD/VCR player, a sound system, a wireless microphone, a built-in computer with wireless network adapter, and a set of laptop connections.
Note - The AV Rover is locked and parked in room #102 Cole. Please contact Dan Sehnert (Facilities Coordinator, djsehnert@ucdavis.edu. 2215 Meyer Hall, (530) 752-1256) to check out the AV Rover and to get a key to unlock the AV Rover from the wall station and to roll it to Cole classroom. Please return the AV Rover to room 102 Cole, after use.
Turning off the Av Rover
Shut down the computer as you normally would power down a computer.
Press the power button twice to turn off the projector. The projector will speed up its fan and then shutdown completely. This may take several minutes, but be sure the projector does shut down.
DO NOT unplug the Av Rower's power cord until the projector fan has stopped. Moving the system while the projector is still hot may cause damage to the lamp.
Press the power buttons on the DVD/VHS and amplifier to completely shut down the unit.
Extension Cord Reel
The power is supplied by a ceiling-mounted commercial cord reel: Hubbell HBLC40123TT Cord Reel with Triple Tap Outlet.
Wireless Network
The classroom is equiped with a wireless access point: EnGenius ENH200 Wireless Client Bridge/Access Point Long Range 802.11 b/g/n up to 150 Mbps / 500mW High Power for Long Range.
DSL Modem
The classroom (120 Cole) is equipped with a DSL modem from Billion model BiPAC 8500 with a symmetric data rate of 2.3 Mbps (2-wire SHDSL).
The modem is connected to the NAM # 156882 in 120 Cole building. The Modem is maintained by Campus Communication Resources (call Jennie at 530-754-5777 for help with modem).
Wireless Net5work Adapter
The built-in computer is equipped with a USB wireless network adapter (Rosewill RNX-N150UBE Wireless Adapter ) for connection to the access point.
Wireless Microphone
The AV Rover is fitted with a wireless microphone (Sennheiser-EW122G 3A). It consists of a body pack transmitter, a cardioid lavalier, and rack mountable receiver. Mfr# EW122G3-B
Product Manual Product Manual
Data Sheet
Note - The body pack needs two AA batteries. Make sure the batteries are fresh and working. A set of fresh batteries provides up to eight hours of continuous operation.
Laptop Connections
The AV Rover is fitted with a VGA cable and an audio cable for laptop connection.
If your laptop is configured for DHCP, then you should be able to connect to our wireless access point. Please contact Animal Science IT office for access code. The name of the wireless access point in 120 Cole is COLEA and in the horse barn is HORSEBARN
Built-in Desktop Computer
The Av Rover is fitted with a built-in desktop computer. It is installed on the middle shelf, behind the front door. The computer is a DELL OptiPlex 990 Small Form Factor wit h the solid state hard drive, running under Windows 7 operating system. The Microsoft Office 2010 applications are installed on the computer. There are two USB ports on the left edge of the monitor to be used for USB memory thumb drives. Please shut down the computer after use.
Computer OptiPlex 990 Small Form Factor Base Standard PSU
Processor Intel® Core™ i7 2600 Processor (3.4GHz, 8M)
Memory 16GB DDR3 Non-ECC,1333MHz Dual Channel SDRAM,4x4GB
Monitor Dell UltraSharp U2412M 24"W Monitor, 24.0 Inch VIS, Widescreen, VGA/ DVI/ DP
Video Card 1GB AMD RADEON HD 6450 (1 DP/ DVI), Low Profile
Hard Drive 128GB 2.5 3.0Gb/s Solid State SATA with 8MB Cache
DVD 8X Slimline DVD+/-RW Roxio Creator™ CyberlinkPowerDVD™
Operating System Genuine Windows® 7 Professional, 64-bit, English
Office Microsoft Office 2010
DVD/VCR Player
The AV Rover is fitted with a DVD/VCR player. The remote control is anchored to the AV Rover drawer and can be used to operate the player. Please shut off the player after use.
LCD Projector
The AV Rover is fitted with a LCD projector. The projector is a Mitsubishi WD620U Projector. Please shut off the projector after use.
Screen
The screen is a Da-Lite portable screen: Carpeted Picture King , Viewing Area: 60" x 80" Diagonal: 100" Format: Video (1.33:1) Surface Type: Matte White Case Finish: Grey Carpet. Mfr # 76753
One of the walls in 120 Cole classroom is painted flat off-white to be used as a projection screen. Position the AV Rover about 20 feet from the center of this wall for best results.
Service Information
LCD Projector Maintenance:
Once a year have the projector fan cleaned out. Lamp life is 4,000 hours.
Cabinet: Clean the cabinet by gently wiping it with a soft, lint free cloth.
Lenses: Clean the lenses by gently wiping with a soft, lint free cloth (do not use a paper tissue!). Clean by breathing on the lens to create moisture then wipe with lint free cloth (If need be, use a special optical cleaner only!).
Never use strong cleaning agents such as acetone or benzene! These substances can damage the surface and the anti-reflex coating!
Replacement Lamp
Description: Lamp for WD620U Mitsubishi Projector
Lamp: VLT-XD600LP
Bare Bulb vs Lamp Assembly
Maintenance Schedule
The DVD player of the computer was replaced on November 10, 2015 under DELL warranty agreement.
Contact
Abbas Ahmadi (530-752-5886, abahmadi@ucdavis.edu)