30th Annual UC Davis Horse Barn Production Sale
"A Sale with History and Tradition"
June 24-25, 2023
Mark your calendars for our 30th annual production sale! This year will feature a Sale Showcase and Open House event where we invite you to visit the Horse Barn, preview the sale horses, and meet the hard-working student interns. All bidding will take place online through ShoWorks auctions so you can bid from anywhere!
UC Davis Horse Barn
Sale Showcase and Open House
June 24, 2023
4:30-6:00PM Open house, intern and sale horse meet-and-greet
6:00PM Sale Showcase in the main arena
Featuring:
Horse Barn Open House

Tour the historic Horse Barn which is over 100 years old

Learn about our program and internships

Get a sneak peek at the 2024's sale horses and mules

Meet-and-Greet

Get a closer look at each lot

Meet the interns who have trained each horse or mule

Ask questions and gather all the information you need to bid

Sale Showcase

Formal sale preview in our arena

Hear more about each lot with descriptions and stories from their

interns

Watch each horse or mule work in the roundpen and

demonstrate their skills and training

Dinner and Drinks

Enjoy fantastic food from Buckhorn Food Truck

Beer and wine garden for 21+

Family Fun
Door Prizes and more!
UC Davis Horse Barn
Online Auction
June 24-25, 2023
Online auction services are provided by ShoWorks Auction Services. Bidder Registration is now open! Visit the Auction Site to register below.
Click here to visit our Auction Site!
Online bidding begins Saturday, June 24, 2023 at 5:00PM.

Online bidding will begin closing at 5:00 PM on Sunday, June 25, 2023.

Lots will close successively, beginning with Lot 1, with a three-minute

new action countdown between each

If there is competitive bidding at lot close, the three-minute new action

countdown will reset with each new bid. This ensures interested

bidders won't be "beat-out" by a last minute bid.

If there are no bids within the three-minute new action countdown, the

lot will close and move on to the next lot.

All subsequent lot closing times will be pushed out accordingly, closing

no less than 3 minutes after close of the previous lot.

It is recommended to be active on the ShoWorks site before the 5:00

PM close to familiarize yourself with the process.
2023 Production Sale Animals:
This year's sale features ten yearlings and two weanling colts with a wide variety of disciplines, bloodlines, colors, and personalities. There is sure to be one you'll want to take home! To view more information on each sale animal, click on their picture.
Click here to see the full sale catalog! (View in PDF)
Click here for sale videos!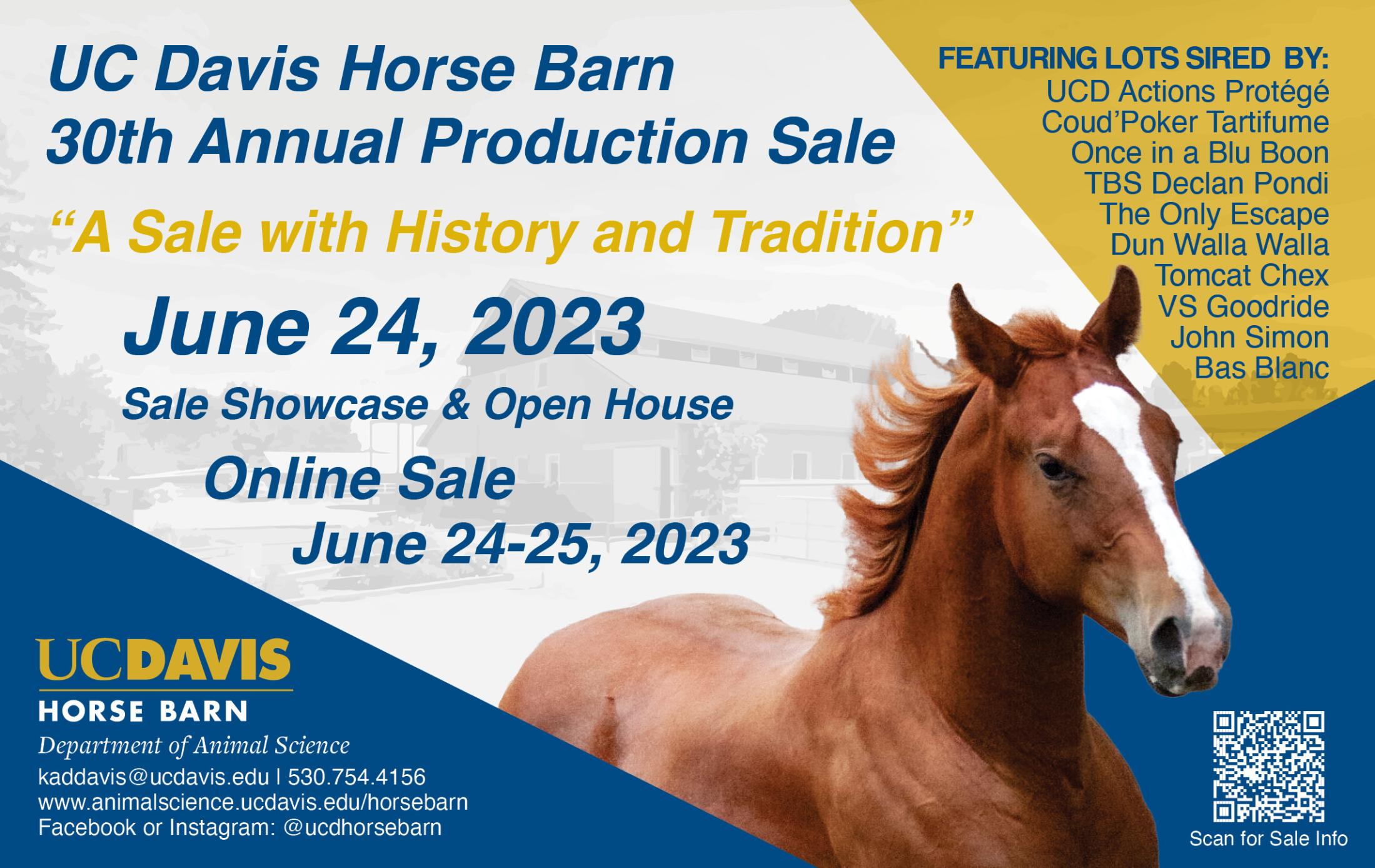 Please send any inquiries to Kelli Davis at kaddavis@ucdavis.edu or (530)754-4156 and follow us on Facebook and Instagram (@UCDHorseBarn) to receive sale information as soon as it becomes available!